Contrary to popular belief, there is not one correct way to play or a 'perfect' defense. However, defenses can be separated into three main catagories: Defenses for people in safe galaxies, defenses for people in hostile galaxies, and defenses for people in between.
Please understand that this guide does not cover defending a Jump Gate. It specializes in covering how to build good defenses.
Command Centers (CCs):
CCs have only for two uses
1) Increasing the attack of your fleet on your main JG (And only your main JG, except maybe your capital)
2) occ capacity.
if you are not building CCs for one of those two reasons, don't build CCs.
Planetary Rings (Prings, P-Rings, pringles, rings, etc):
Prings are your primary defense. They shred a large amount of fleet and are the bread and butter of any defense.
Currently three sets of P-Rings are required by the recommendation of [XI] leadership on each of your bases except very new ones. On hostile galaxies I personally recommend four sets for extra hurt if someone we are hostile against needs to suicide some of their fleet. Once you get a set on all of your bases, most of your worries should completely evaporate, therefore if you don't have the technology for prings, get it asap.
Planetary Shields (P-Shields):
P-Shields are your secondary defense. They require your enemy to bring more fleet and thus work in conjunction with prings to make your base only open to attacks by relatively large players.
Currently one set is recommended on any base with a P-Ring, but putting up a set of P-Shields are by no means even 50% as urgent as putting up a set of prings. Pshields you can do without, but Prings are absolutely required.
Disruptor Turrets:
Disruptor Turrets are second tier turrets that only do a fraction of the hurt that prings deliver. Thus they are not very useful once you get pring tech.
The only reason you should build disruptors at all are 1) you don't have prings or 2) you are building a set on your main JG
If you are considering building Disruptor turrets for any reason other than those two reasons, think again and cancel construction.
Photon Turrets and Deflection Shields:
Rather useless turrets to have unless they are the best you have. If you are building them outside your main JG other for any reason except because those trash turrets are the best available to you, delete your account now. (Photons and Deflections are marginally useful in single sets on your main JG to absorb attacks away from your fleet)
Ion Turrets
Either love it or hate it. They help suck away some fighters from an enemy attack, lowering their ratios in a fighter drop. If you don't use significant amount of fighters on your bases, do not build these, if you do, one or two sets is optional.
Heavy Cruisers / Battleships / Dreadnoughts:
They protect your trade routes. Trade routes are plunderable if your base defense fleet is consisting entirely of fleet that can be disassembled by fighters. A general rule for now is 10000 credits worth of HC/BS/DN on each of your bases for TR protection. Dreadnoughts are the best, HCs are the worst, BS are in between. 1 DN on each base is best at this time of writing and [XI] leadership recommends one DN along with one P-Ring on your bases.
Fighters:
Leaving some fighters on your bases is an okay thing to do because it allows for quicker resupplying when you are out of fighters. However, do not leave too many fighters on your bases. 7k/1 level of pring at most except on your main JG. Fighters can also be used as a form of active defense by giving you an option to shoot enemy incoming down if you get the opportunity of being active while you spot them incoming to your base.
Every Other Ship should not be left on your bases except for a short period of time while you plan to move them to a safer spot such as a guild fleet blob or your main JG.
Safe Galaxies
Definition of a safe galaxy: A galaxy which is predominantly controlled by your guild or your allies. It allows for a more liberal approach with defense buildings due to your local dominance.
Guidelines: (assumes pring tech and an econ level that doesn't place you below the poverty line (about 2k+))*
New bases can be undefended until you get enough construction to your liking to start a pring. (About 150-300 construction depending on taste). Do not put more than 1 shipyard/spaceport on new bases and do not put any structure other than construction buildings, energy, population (area if you need it) and 1 sy/sp.
After that, follow the following table:
Current Armor Level average: 27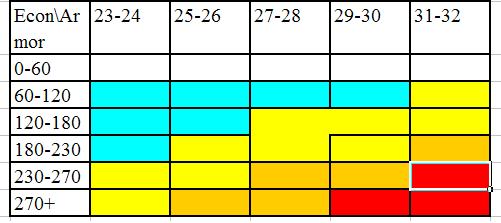 Teal: 1 Pring, Yellow: 2 Pring, Orange: 3 Pring/1 pshield, Red: 4 Pring/1 pshield
Hostile Galaxies
Definition: Hostile galaxies are galaxies which are predominately dominated by enemy fleet. You must be very conservative when building in a hostile galaxy or consider relocation.
Guidelines:(assumes pring tech and an econ level that doesn't place you below the poverty line (about 2k+))*
New bases need disruptors by 30 econ, and prings by 60 at the most. Take extra liberties in building extra prings so that you have 3 if your base has high econ. Keep big fleets outside of your galaxy unless otherwise ordered.
At the current armor level average, you should have 1 disruptor by 30 econ, 1 pring by 60 econ and 2 or more prings by 150. Considering putting a shield along with the rings as well.
Also, because of the hostile nature of the galaxy it is easy to find yourself occupied even with adequate defenses. Therefore, CCs are an attractive option to build in Hostile Galaxies especially if you are active in pumping fighters to piss people off. Another thing to note is that do not build too many stellar units while operating in a hostile galaxy (Exception: Fighters, Recyclers that you can protect). Stellar units are for active people that know how to not get their fleet shot. In a hostile galaxy you do not have this guarantee and thus stellar fleets are out.
Finally, because you generally need more prings on hostile galaxies than on safe ones, you might want to consider shifting all your bases on asteroids or on moons for the cheap defenses.
Neutral Galaxies
Neutral galaxies are any galaxies that are not either safe or hostile. The guidelines for them lies somewhere in between hostile and safe galaxies. Use your own judgment and sense to judge what defenses you need. Use the table I created for safe galaxies as your minimum defense requirement and add an additional pring if you want.
I got your defenses, wtf do I do now?
If you are one of those people that have a very shitty econ (Below 3k), start working your econ up by settling more astros (save to get 14 atleast) and then at least about 200 construction on each astro. From there, get 20 spaceports and 8 econ centers on each of your astros. Make sure you get unique, Long distance trades (The real benefit of proper defenses) and you should break the 3k mark in no time. 4k should come about a month after. From there, go crazy. Raise your production, spam fleet, and collect tears of noobs with us.
help, I got no pring tech!
Get pring tech asap. For now, stick with 2 disruptors on all your bases (3 on high econ bases). It won't stop you from getting attacked, but its a start and we won't kill you as much as we will when we see a 100 econ base with 10 ion raped for 20k profit. But damn, if you don't have pring tech, you are falling rapidly behind! (or started pretty damn late)
If you have pring tech, build prings asap. The two disruptor bases are only viable for people without pring techs.
Building a JG Fortress
Fortresses are designed to for your fleet to sit on. Since fleets are very good targets in general, a good JG Fort should a) be a deterrent and failing that b) let you either crash an invading force (if you're online) or deny them excellent ratios that would otherwise be acquired on a crappy fort (if you're not online)
Since the primary defense of a JG is tailored to defending a fleet, and not a base, there are slightly different requirements for a good JG Fort. They are, in order of rough importance (high -> low):
a) High JG Level. Your fort exists to get your fleet to places quickly, this allows that.
b) Command Centers. Since fleet is alot more expensive than bases, a pring generating 35-40k losses per level won't cut it when you have millions of fleet. Command Centers generate a linear attack to all your fleet and are thus alot more valuable than rings.
c) Logistics, Construction/Prod, and Tactical Commanders on the base. The logistics commander is needed for the same reason JGs are. The tactical commander is basically an extra CC level or two. And finally the construction/production commanders are commanders you should have on every other base anyways. Rotate the commanders as needed. Log for speed, Tactical for crashing people if you're online, and Con/Prod for everyday stuff.
d) Shielded Turrets. As many types as possible. You want to have level 1 atleast of all turrets above and including ions to achieve the best mitigation against fighter drops. Its not much, but every little bit helps.
e) Everything a normal base has. This means construction, spaceports, etc. Just because you need a safe place for your fleet to park doesn't mean you should neglect building prod, etc.
f) Additional Prings/Pshields. Yes, these are really the least important thing.
As for units, fighters generally make the best defense on a fort, but never have too many immobile figs. Corvettes/Destroyers/Frigates/Recyclers/Titans/Every leviathan after the first one are liabilities for defense.